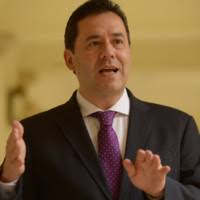 Listen now to WACA's KNOW NOW conference call from Wednesday, February 26, at 2:00-2:30 pm ET, featuring Felipe Muñoz, Advisor to the President of Colombia for the Colombia-Venezuela Border. Mr. Muñoz will be in conversation with WACA Chief Operating Officer Liz Brailsford.
As a consequence of the economic and political collapse in Venezuela, more than 1.6 million Venezuelan migrants and refugees have crossed the border and fled to Colombia seeking safety and opportunities for their future. The government of Colombia is going to extraordinary lengths to provide humanitarian relief to this unprecedented influx of migrants and making tremendous efforts to integrate the migrants into society.
Listen to the conversation with Felipe Muñoz to learn more about the magnitude of the crisis, the efforts undertaken by the Government of Colombia, and the role that the U.S.